Can You Leave Garden Decking Untreated
Posted by:
Admin
Tags:
Posted date:
05-09-2022
Can you leave garden decking untreated? We look at which decking treatment you will need for your garden decking. Find out more about the types of decking treatment.
Can I Leave My Decking Untreated?
If your home garden has decking, you may make it appear as wonderful as the inside of your home. Unfortunately, most decking is short-lived, which may disappoint some homeowners, they must chemically treat their decking to extend its lifespan, but not all decking material requires treatment. Always keep in mind the variety of decking materials accessible - one kind of decking is composite decking. In addition to PVC and wooden decking, there is plastic wood composite.
Depending on the type of decking you placed, you may leave your decking untreated. When installing timber decking, you must treat it as part of the upkeep procedure - to prevent the surface texture from absorbing a lot of water, you must seal it with a suitable stain.; this is in addition to the typical chemical treatment that manufacturers of timber decking give their products as they are manufacturing them.
Consider plastic wood composite if you want a decking material that you won't treat; this decking material is incredibly robust and long-lasting. Your composite plastic boards won't absorb a lot of moisture when you put them outside. Due to this, when exposed to the environment, plastic wood composite will not expand or break. Therefore, plastic or PVC decking is an additional option to plastic wood composite.
Which Decking Treatment Do I Need?
The type of decking you have and its condition will determine the sort of decking treatment you apply. Is it being treated or not? The planks are either hardwood or softwood - are they old or new?
The type of decking treatment that could and ought to be applied can be influenced by all of these variables. There are five major ways to handle hardwood decking, and each one has one of the following benefits: protection, preservation, maintenance, restoration, or rejuvenation.
Types of Decking Treatments:
Decking Cleaners and Restorers
Cleaners and restorers for decking are employed as preparation and maintenance tools. Before using a new decking treatment, raw wood or recently stripped decking can be prepared using a wood cleaner or restorer. By protecting the finish, deck cleaning chemicals help keep biological development like mould and algae under control - keeping decking looking excellent for longer.
It is strongly advised to treat the wood with a specific mould and algae treatment or decking cleaning once the decking has been washed. This will cleanse the decking and get rid of any apparent mould and algae remains. Additionally, it will eliminate any dormant or active mould or algae spores found inside the wood grain that would otherwise quickly reappear.
Decking Preservers
Decking timbers are helped to ward off biological dangers that would decay or deteriorate untreated wood by wood preservers. Decking preservers employ a wood preserver on the decking to help shield decking boards, posts and supports from the many organisms that may deteriorate untreated wood over time, such as mould, algae, fungus, and wood rot, and insect assault. Wood preservers are often offered in both clear and coloured varieties and come in water-based and solvent-based formulations.
Preservatives made with solvents usually penetrate the wood more deeply and dry more quickly than those made with water. Preservatives that are based in water are less toxic to the environment and have a much lower odour while being used. Although solvent-based formulae have historically been used to maintain outside wood, tougher regulations regulating high VOCs (Volatile Organic Compounds) have led to the gradual phase-out of many solvent-based wood preservers in favour of water-based alternatives.
When used on decking, a clear wood preserver keeps the wood's original appearance while a coloured preserver effectively acts as a decking stain by staining the wood. Wood preservatives can shield decking against biological dangers like mould, algae, and wood rot, but they are not strong enough or long-lasting to be used as a stand-alone decking solution. Due to this, decked areas must be coated with proper decking oil, decking stain, or decking paint after being preserved.
Tanalizing new softwood decking boards is a common practice to protect and maintain them. Although they are prepared for usage, it doesn't hurt to add a new layer of preservatives for further security. New hardwood decking resists mould, algae, and insect assault exceptionally well and hardly ever has to be preserved. If the type of decking wood is unclear, ask the supplier or maker of the decking. If you are repairing decking that hasn't been treated in a while, there's a strong probability that mould, algae, or other biological problems have already harmed it. It is crucial to remove all debris, mould, algae, and the previous decking finishes like decking paints, oils, or stains before applying a wood preservative to the decking.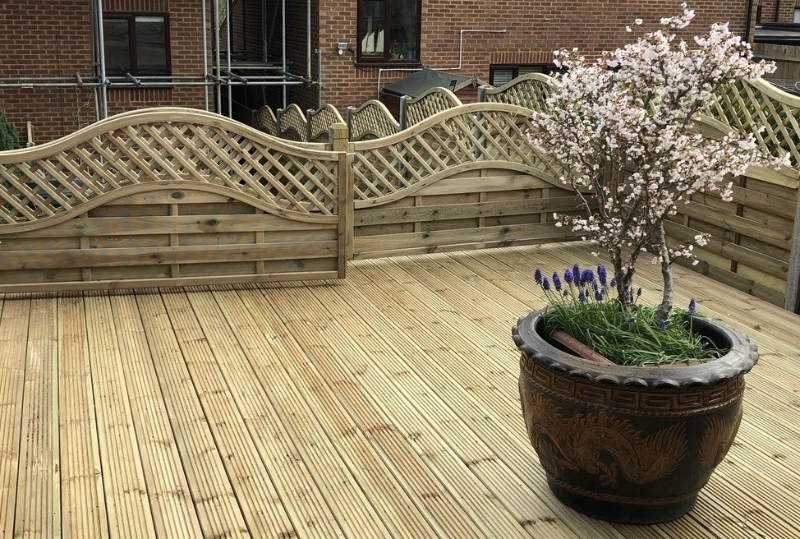 Coloured and Clear Decking Oils
Decking oils are by far the most popular option since they are quick and simple to apply and offer a fair level of protection and durability. The biggest advantage of using oil over decking paint or stains is that oils never peel, flake, or break. As a result, you'll never have to attempt the challenging and perhaps time-consuming job of removing an old finish. It only takes a quick cleaning to get rid of any surface filth or debris when heavy traffic areas of decking start to look worn out or old.
Reapply a modest amount of oil to the troubled regions after that. Even if the entire decking area has to be refreshed, all it takes is a quick clean and a new coat of oil to return it to its former splendour. Sometimes transparent decking oils, which also give the decking boards a natural but slightly damp look, accentuate the inherent colour and texture of the wood.
Examine how bare wood decking will appear after a clear oil has been applied by wiping a portion of the deck with a damp sponge or cloth. Coloured decking oils come in a wide range of tones and shades. Although the most popular colour is "dark oak", a wood-like shade, there are other options as well, such as grey, black, white, green, and blue. Coloured products frequently provide better UV protection since the colour pigment in the oil helps to filter UV radiation.
Decking Paints
Decking paints can be used as a fast repair to improve the appearance of worn-out decking since they give a solid opaque surface. Products like Decking Rescue Paint, which come in a variety of attractive colours, can offer a cutting-edge substitute for conventional decking treatments.
Other outdoor garden paints, such as Cuprinol Garden Shades, are ideal for wooden garden furniture, wooden fences, and garden buildings, but they are not strong enough for decking boards.
Decking Stains
Decking stains often give the deck's surface a semi-translucent, varnish-like covering.
This treatment gives the deck colour while allowing the wood's grain to be seen. Decking stains are robust, long-lasting, and protect the wood's surface; they come in a variety of colours.
Different Types of Decking Material:
Composite Decking
To determine if composite decking has to be treated, we must take into account its material composition. Make sure that you are aware that most homeowners use chemicals to treat their decking in order to prolong their lifespan. This chemical strengthening procedure for decking often takes place at a plant where the decking is made. Plastic and wood waste from recycling is used to create composite decking. These two components, which are by products from the manufacturing process, are blended with a bonding agent at the plant.
The recyclable plastic and wood are heated after being mixed with the bonding agent to create composite boards. In this manner, plastic composite boards are produced. Plastic composite boards will endure longer in your home when you install them because of how sturdy the manufacturing process makes them. Rain, moisture, heat, and changes in temperature won't cause plastic composite decking to degrade.
Wood Decking
Wood decking has genuine timber fibre as opposed to synthetic wood composite, which incorporates recycled materials. Timber decking comes in two varieties - the first is made of softwood, and the second is of hardwood; the latter doesn't require chemicals to make it powerful, but the former does. Due to this, producers of timber decking must chemically treat their decking material while it is being produced. The softwood is pressure-treated and chemically bathed until it becomes solid; these chemicals will help softwood decking live longer.
Consequently, treated softwood is expected to endure longer than untreated softwood. The reason homeowners are inquiring if they can keep their decks untreated is because of this. Hardwood doesn't require chemicals since it is more durable than softwood. You may build wood decking outside, whether it's made of hardwood or softwood. However, whether treated or untreated, your wood decking will eventually lose its durability. Due to this, homeowners frequently need to treat or paint their wooden decking in order to extend its lifespan.
Plastic or PVC Decking
Plastic decking is also a synthetic material, unlike wood decking but similar to plastic wood composite. With the exception of the absence of lumber, manufacturing plastic decking is comparable to making a plastic wood composite. The polythene must be processed at a facility so that plastic decking boards may be created. Plastic decking does not contain either hard plastic or soft plastic, in contrast to wood decking.
PVC decking provides comparable qualities. Your PVC decking will last longer outside since it can withstand the weather better than plastic wood decking. You should now be aware that composite decking is referred to as plastic wood composite. Your plastic decking won't be destroyed by heat or moisture. Due to this, after you have placed plastic decking, its longevity will not diminish.
---
Are you looking for garden decking or composite decking near you? If you require garden decking in Milton Keynes, Buckinghamshire contact us today. Our garden design experts can supply and install beautiful garden decking for you and your family to enjoy for years to come.