Choosing Wooden Driveway Gates
Posted by:
Admin
Tags:
Posted date:
04-03-2021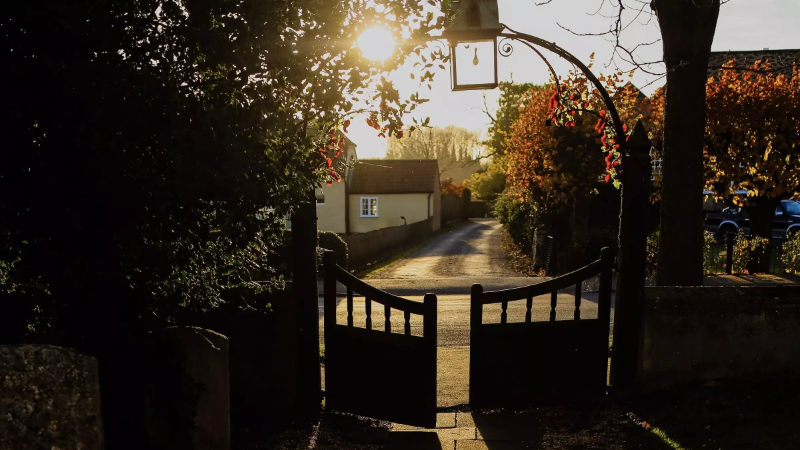 Are you looking for information about how to choose wooden driveway gates? This article will guide you through the various options for choosing a wooden driveway gate to help you make your decision.
What is the best wood for driveway gates?
There are several different options when deciding which wood would be best for your driveway gates' crafting. Wood offers easy maintenance, traditional and classic looking aestheticism and tends to age better than a metallic material like iron or steel that could rust and turn a range of displeasing copper or green colours. Rust may highly affect the quality and, if neglected, could even begin to affect your entrance through the gate installed.
Many factors play into your choice; you must consider what you think looks the most aesthetically pleasing for your home, the feel of the wood, and it's longevity in the elements. Hardwoods have a grain tightness style that allows them to resist any UV rays and moisture. The popularity of hardwood gates is often due to their longevity and aestheticism; it gives you the leeway to paint the wood to suit your home and specific tastes, contributing to your kerb-appeal.
How long do wooden gates last?
Metal gates have the longest lives and may only need oiling or painting every once in a while to maintain them depending on your own personal style. However, when it comes to wood types, your wooden gate's longevity can often depend largely on the material of the wood used.
Typically, softwood is the cheaper option and, when tended to and maintained with the correct stains, can last for up to 7-8 years. It still makes for a fine choice for your home; however, if you are looking for something you wish to last you many years more, you may want to look into more hardwood design materials for your timber gate.
Hardwood tends to wether down into quite a pleasing silvery shade; however, many still choose to paint their gate for stylistic purposes. Hardwood has the ability to last you up to 30-35 years and will always look agreeable long after many years with it. Whilst it may not make it cheap in pricing, it is highly cost-effective.
Do driveway gates add value?
Any fencing or gating (driveway or pedestrian gates or fencing) adds to your overall household's cost and kerb-appeal. Driveways and driveway gates add much value to your home and add a security level for those wishing to rent out your property. Gates and fencing offer the tenants an air of privacy that most residents desire.
Whether you wish your home to look attractive to neighbours and guests or if you are a property owner wanting to add another level of desirability and monetary value to your property. Out of many ways you can add value to your home, adding a driveway gate increases it massively. Most driveway gates starting costs are around £200.00 here in the UK, and as the quality of the materials and the size or width of the gate increases, as does the price, making it a smart, easy way to expand the value.
Hardwood
Hardwoods have a grain tightness style that allows them to resist any UV rays and moisture. The popularity of hardwood gates is often due to their longevity and aestheticism; it gives you the leeway to paint the wood to suit your home and specific tastes, contributing to your kerb-appeal. Kiln Dried Oak and Air Dried Oak is a hardwood type that requires lots of aftercare and maintenance. It is highly susceptible to moisture damage and could eventually distort the wood through swelling.
If you decide on this type of material for your gate, you may have to invest in a good micro-porous stain when painting your gate to prevent this damage. These stains offer filters that reject any UV rays. When choosing, it is important to be aware that Kiln needs a lot more care and protection from moisture than its counterpart due to Air Dried Oak being made a much drier substance. Green Oak is another form of hardwood, and it is not well exposed to any drying method. It is a wet timber that weathers naturally. Thus, it is not of the same risk as any previous drier woods, as its design has a much lower absorption level.
Softwood
Softwoods can be some of the most popular and cost-efficient choices; they are highly durable. The most common soft-woods are Cedar and Scots Pine, also known as Redwood. There are many advantages to consider when choosing Cedar for your driveway gate. Red Cedar is primarily used when building boats, as it is light-weight but has immense strength, which makes it almost perfect for gate crafting. The timber's natural oil aroma fights off a range of potential pests and insects and fends off fungi that may freely appear on other existing wood materials. Due to this factor, Red Cedar does not require any preservative coating.
On the other hand, Redwood also makes for a worthy choice for any of your gates. Its style is a hard timber, usually of a maroon colour which is a style that may complement any garden or lawn setting. Compared to Cedar, this wood needs a layer of water-repellent stain every 1-2 years to keep the wood in an acceptable and presentable condition, abstaining of insects and any damage resulting from natural causes.
Should driveway gates open in or out?
Metal and wooden driveway gates can function in several ways and directions, all of which must be considered. Some are automated; some are manual. Some swing outwards, others swing inwards. The most traditional swing a driveway gate system has to choose from is to open inwards, and this often appears to be more inviting and welcoming, almost as though you are guiding them into your home and showing them the way. Whatever the position you stand on, there are still various options on whether this is a truth.
Having your gate swing inwards can often create a lot more room and space. If you have a driveway that exists on an upwards slope, you may be interested in having single or double automated sliding gates made; these kinds of gates avoid any outwardly swinging gates that could prove to be a problem to pedestrians or other vehicles. You may not have much room in your driveway, and thus it could prevent you from wanting inwards swinging gates.
Outward swinging gates are often frowned upon because they can get in the way, as previously mentioned, of pedestrians, pets and other vehicles. You may be interested in what is known as 'Bi-Folding' gates. These wooden or metal automated gates are often double gates. They are similar to sliding gates; however, they separate and fold in on themselves; they make more space for your vehicle and don't swing any particular direction that could inconvenient for yourself or by-passers.
Are you looking for fencing supplies in Milton Keynes and Buckinghamshire?
We are open to offering the best prices for fencing, decking and wooden gates.

Fencing & Decking Specialists
MD Fencing & Decking are your first choice for high-quality fencing and decking in Milton Keynes to suit any budget.
Our experienced team offers a personal and efficient installation service that ensures that our customers receive assistance in choosing the best woods and metal materials for them and a bespoke landscaping service delivered by professionals.
Choosing Wooden Fencing
As a small independent business, we prepare to go that extra mile to ensure that our clients are delighted with any project that we undertake. Where larger national companies treat and consider customers as numbers, we see our good work as helping individuals meet their needs. We offer a complete range of landscaping, security, driveway gate offers and fencing installation options to help you transform your garden or place of work to the designs of your choice.
We offer a complete range of landscaping, security, driveway gate offers and fencing installation options to help you transform your garden or place of work to the designs of your choice. Our most popular services available include the following:
Timber / Closeboard / Picket Fencing
We have many years of experience working with domestic and commercial clients throughout the Milton Keynes area. Our high level of customer satisfaction ensures that most of our business comes from returning clients or recommendations from people we have provided previous fencing or decking services. We are confident that we can help you choose the materials for you, provide security, privacy and aestheticism to any home or property.
Do you need planning permission for driveway gates?
Planning permission is often going to the council or any local planning body to request and make them aware of any building work you may wish to take upon your property. It would be best to make any local body or council aware of any necessary construction work you want to carry out instead of doing so in privacy.
Doing such prevents illegal site work and can ensure neighbours' safety and provide the best interests for workers, places of historical significance, and the general public. Planning permissions for driveway or pedestrian gates can vary within their differing regions, so it may be best for you to seek your local authorities to confirm and grant consent for your plans. If you intend on erecting a gate in the same location as a previous on, planning permission is often not needed, given you are pitching a new gate of a similar height.
Suppose you wish to erect an entrance security steel, iron or wooden gate on any private road. In that case, you do not require any planning permission that is up to 2 metres high. However, if your desired gate opens up to a motorway or pavement leading onto the highway, the gate may need only be a metre high; otherwise, you require consent.
The size of any UK gate varies from home-to-home. For a driveway gate, the standard width is around the same as most garage front entrances, which is at least around a height of 2.4 metres, around 8ft. The recommended width for your driveway gate in the UK is usually 3 metres, 10ft.
If it is a gate leading onto a highway or frequently used by highway vehicles, it must not be taller than a metre. If the gate is on a ground level, on the pavement of a road, or privatised road, it must not exceed 2 metres. Suppose the gate erected has already exceeded this height; planning permission for taller wooden gates and gate posts is, more often than not, denied.
Landscaping Ideas in Milton Keynes
Are you looking for fantastic landscaping ideas in Milton Keynes? Our landscaping, fencing, and decking services are available throughout a 30-mile radius of Milton Keynes, providing a competitive price for the high-quality work we undertake. We can pay a site visit to your property for an initial consultation so that we can design your bespoke project to suit your budget.
If you would like to discuss any ideas for commercial or private projects, our experienced team are open to offering help and advice with any work that you require. Contact us today and a member of our team will be happy to assist you any time of the day!

---
Contact us today by calling 01908 668 966 or using our contact form to forward your enquiry, and a member of our team will be happy to assist you any time of the day.