How To Choose The Right Fencing For Your Garden
Posted by:
Admin
Tags:
Posted date:
15-06-2023
How to Choose the Right Fencing for your Garden? MD Fencing & Decking provide garden fencing installation throughout Milton Keynes and Buckinghamshire. This article looks at Considerations When Deciding On The Sort Of Fencing is right for you.
Which Style Of Fence To Pick?
Plenty of fencing suppliers across the UK have specifically designed boards and panels of the highest quality. Some are more traditional, yet many are made stylish and contemporary. Aesthetic appeal is crucial to the appearance and value of your household. Yet, many homeowners tend to select their fences based on the security and privacy that they require. There are two specific types of fencing, these include:
Solid fences offer fantastic levels of security that prevent intruders. Their closed slats and panels increase your privacy and provide some noise reduction. Alternatively, slatted fences are panels that offer boundary creation with a rare twist. However, they provide a reduced acoustic quality. Trellises have small open holes, and these can be effectively placed above your fence.
A trellis allows in plenty of light, that will brighten up your garden or outdoor landscape. Plants can climb up and weave their way in and out as they grow, creating a beautiful and private space. We encourage you to do plenty of research into the various forms of Solid and Slatted fences available on the UK market. The materials, style, and maintenance will all have an impact on the cost and durability.

Considerations When Deciding On The Sort Of Fencing
There are numerous factors to consider when deciding the type of fencing for your home or property. We'll detail some of the most common aspects that will help decipher the most suitable fence.

Security
Ultimately, the most prominent reason home and property owners install a fence is security. It will often have a large impact on which one you purchase. If you want to put off and deter intruders, then the taller you can achieve, the better.
The best option height-wise tends to sit around 8ft or more and is considered the height range that ensures the most secure boundary. On the other hand, if you have a 6ft fence, you can include a strip of trellis which will increase the height for extra security.
You might want to implement an exterior section that isn't climbable. For example, are there slots or 'lips' on the boards that could be used as footholds? You may wish to remove these and change them for other fence types.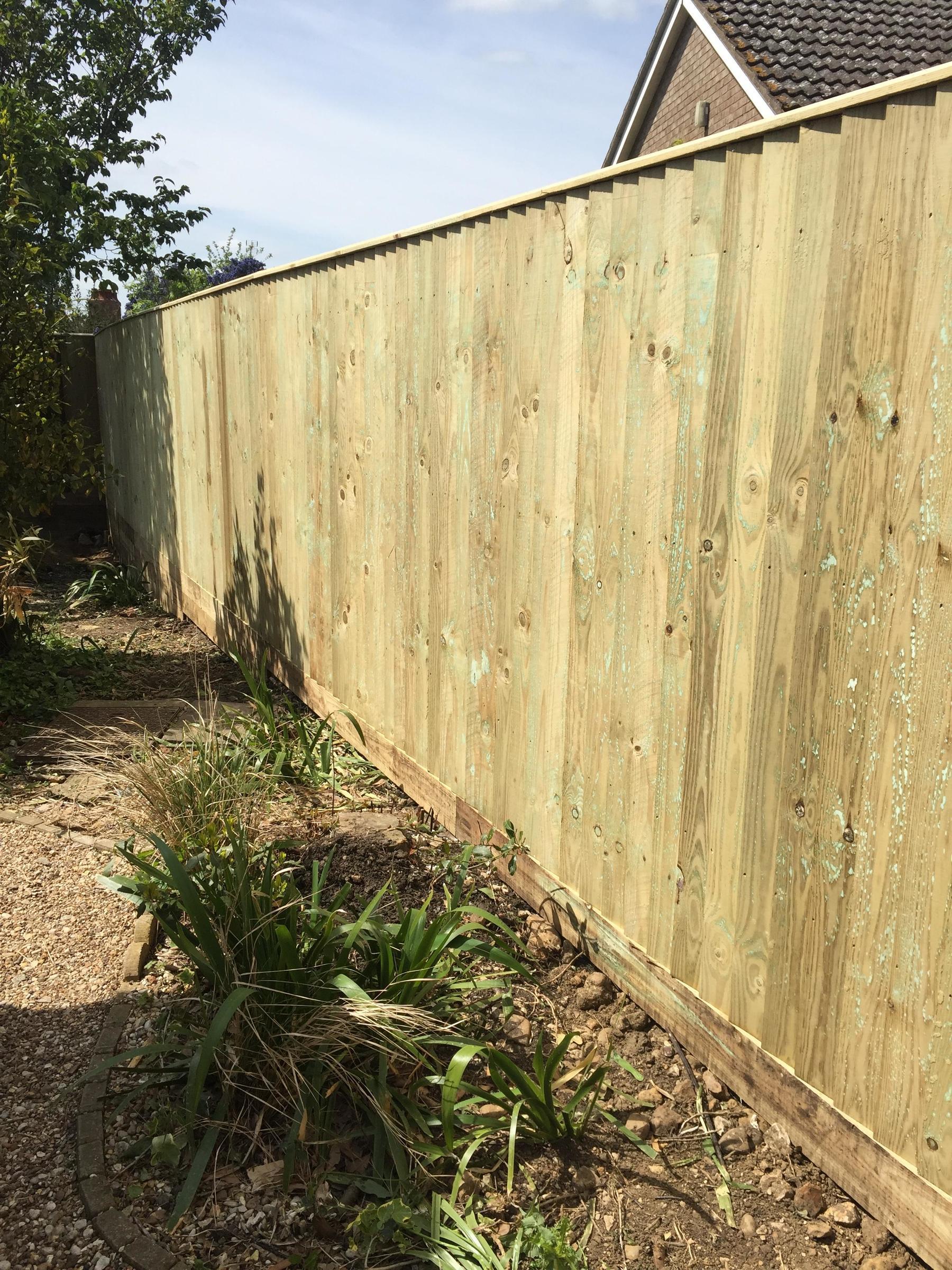 Privacy
Our neighbours and local bypasses are an essential part of our living experience. Yet, for those that live on busy streets with plenty of people and cars passing by, it's likely that you'll need some screening for extra privacy. If you need more privacy, we encourage you to opt for boards with little to no space or consider adding climbing plants to block the outside even more.
View
Whilst some homes bestow a beautiful view we're happy to open the curtains to, some aren't as lucky. Therefore, it is often vital for our quality of life to put a screen between us and the noisy, busy roads for peace and quiet.
We can also choose to block out unattractive buildings that make us unhappy. Taller fences are perfect for a home opposing an unappealing road. However, if there's one thing, in particular, you'd like to block from your vision, we recommend stepped fencing. Stepped fences are fitted against taller sections and only against aspects you'd prefer to conceal.
Safety
Safety is another essential feature of fencing installed around your home or back garden. Securing your pets and young children inside your garden so that they can't get out or get lost is vital.
It is also essential for those that may have ponds or pools outside. We recommend checking through all the laws and regulations of pool and pond enclosures. That way, you won't purchase any gates or fences without knowing the ideal measurements.
Winds
Suppose you find your garden is frequently subjected to strong winds due to the area you live in or the position of your home. That is when choosing a high-quality fence that is immensely durable becomes essential. We also recommend hardy climbers, as these will keep out all draughts, and these will help massively.
Period Properties
You'll find that many period properties are carefully located in conservation areas. If you live in any of these areas or properties, we encourage you to check all the regulations. Assess your rights on implementing brand-new fencing materials and style choices before you buy.
Which material is best for my fence?
It won't come as any surprise to find out that wood is one of the most common garden fence materials across the UK. It is a natural material, so it suits perfectly as a backdrop for your lawns, flowers and shrubbery. Wood is available in numerous styles and shades and is quite cheap and long-lasting. Experts generally encourage home or property owners to select Tanalised softwood, pressure-treated wood, or solid-quality hardwood. Wood treated with preservatives like Tanalith and other mixtures of chemicals will help ensure your wood material stays durable and long-lasting.
The tanalisation process can result in a number of bright greens across your surface; however, these will soon fade. Off-the-shelf softwood is perfect for transforming any outdoor space. It is ideal for those searching for a less expensive fencing option. If you're looking for inspiration, we recommend taking it from those households and properties around you. What is the most common fencing style in your area?
The best thing to do when you're unsure is to ensure your property blends in nicely with the surroundings. Perhaps the local homes are adorned in oak or willow hurdle panels for a more rustic appearance in rural settings. Or maybe they have opted for slates of slick back in a more contemporary design.
Composite materials are now utilised in the construction of fences and screens, much like how they are used for decking materials. Such materials are incredibly durable and low maintenance, provided in a broad range of colours and finishes. However, they are usually more cost worthy.
How High Should Fencing Be?
We advise you to always keep the building regulations and planning in consideration. The guidance varies depending on the location of your property. For example, if you have a boundary that is adjacent to the motorway, your fences should not exceed 1m. Otherwise, you will have to seek formal Planning Permission from your local authorities.
The fences that offer the most privacy are often around 1.8m in height. However, tall fences block out a great deal of natural sunlight, creating shadows across your garden. So, if you're somebody who likes to sunbathe, this may not be the best option for you.
One of the best ways to tackle this issue is by adding a strip of trellis on the top of your fence. Doing so will increase the level of privacy but still allow light to shine through. You want to ensure you accurately know the measurements on your boundary before selecting your ideal fence height.
There's always a chance of a slight drop at your neighbour's end. For example, if you installed a fence of around 1.8m high from the ground, it could measure too high on their side. We recommend you talk it through with your neighbour and ensure you get both measurements right.
How to paint a fence
What you'll what to keep a lookout for is a dry period before you begin any outdoor painting. Ensure the weather is in a relatively consistent phase. You don't want to begin painting under the beautiful warm sunshine, and moments later you and your newly painted fence are drenched in rain. Always prep your fence first, here's how; you must start by thoroughly cleaning it of any dust, mud, moss, or debris, and move all plant foliage out of your way.
We then recommend lightly sanding down your fences, especially if lumps and bumps have occurred over time. Sanding will help ensure a smoother finish for your fencing. You'll be able to find numerous places that provide high-quality timber paint in your local area. However, we'd suggest doing a patch test on your fence type before making a final decision. Do large patch tests across numerous aspects of your garden.
We recommend at least three layers, as this will enable you to see what the final result will be after each coating. Some paints are thinner and others are much thicker in quality, some display the texture and style of the fence better than others. You may find that you don't want full coverage paint afterwards, and you'd much rather opt for a rustic look. A patch test will help you discover your needs. After that, you can begin painting one layer at a time till you're satisfied.
In recent years, black fences have become a popular choice for many home and property owners. Those that have a contemporary or modern garden may prefer black fences. Especially, if they have more exotic or architectural plants and clever lighting.
All your garden's features can pop against a black or darker fence. On the other hand, if you're searching for something that will brighten up the colour, or add more vibrancy to your home, we recommend opting for a stain. Or, you may want to try a brighter, more natural shade to enhance the wildlife and foliage, such as a subtle shade of green. There are many options available that will create a soothing palette to make your garden more relaxing.
---
Are you looking for garden fence installation near you? If you require new wooden fencing in Milton Keynes, Buckinghamshire contact us today. Our garden design experts can supply and install beautiful fencing for you and your family to enjoy for years to come.