Which Decking Should I Choose
Posted by:
Admin
Tags:
Posted date:
02-08-2021
Which decking should I choose? We look at the various types of decking materials available for your garden. Find out more about the best decking options for you.
Types of Decking Material
Decking is an excellent way to improve your home or garden, requiring far less maintenance than a grass lawn and providing you with a dedicated outdoor space to sit and relax. However, choosing which type of material for your decking from can be a difficult decision. There are a few different materials for you to choose from, and we have listed here some examples and how they suit different types of garden decking and will share some tips on choosing the right material for you.
There are primarily four types of material that you can construct your decking from. These are softwood, hardwood, composite and anti-slip. This article will take you through these different materials, their positives and negatives, and which will be best for your decking.
Softwood decking
Softwoods are sourced from trees that grow relatively quickly compared to other species, such as pine or cedar. This rapid growth means that these species can be quickly replaced once felled, making softwood decking materials the cheapest of the four options.
However, there are some disadvantages to using softwoods. The first is that softwoods are structurally weaker than hardwoods, requiring a lot more maintenance. Softwood decking is also less durable and will not last quite as long as other materials. A brief overview of softwood decking:
One of the cheapest decking materials
Easiest to install and construction
Needs the most intensive maintenance
It needs to be treated with preservative oils
Will last up to 25 years if well looked after
Painting and finishes are easily applied or changed.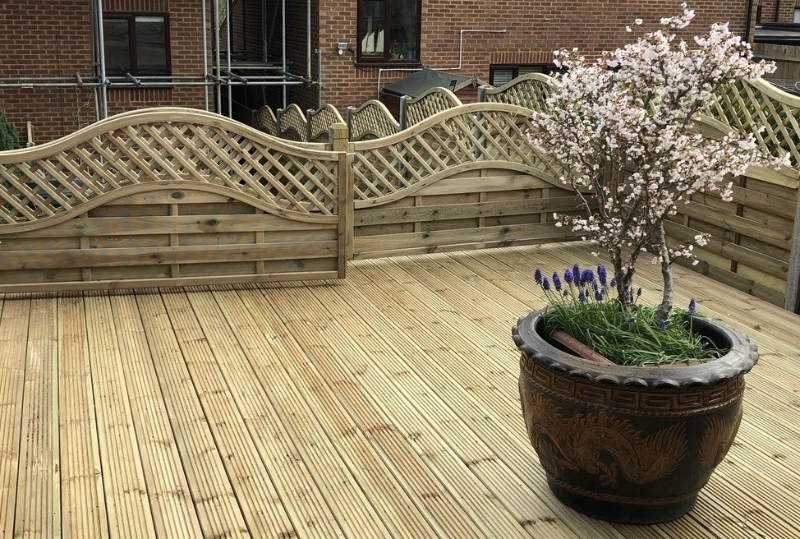 Hardwood decking
Hardwoods are essentially the opposite of softwoods. These materials are sourced from slower-growing trees, such as oak. Given that these tree species are more difficult to replace, the materials derived from them are far rarer and therefore more expensive than softwood options. However, hardwoods are well worth the extra cost.
Aside from the aesthetic benefits of hardwoods being far more attractive visually than softwoods, hardwoods are also much more durable. As they are far tougher than softwoods, hardwood decking will last far longer and requires far less maintenance to look after. A brief overview of hardwood decking:
The most expensive of the four decking materials
More difficult to install than other materials
It only requires very minimal maintenance to keep it attractive and healthy
It has the potential to last for over 50 years
Is the most attractive of the various materials
Composite decking
As the name suggests, composite decking is a material created by combining both timber and plastic to create a new material that brings the benefits of both materials together. You get a great natural aesthetic in your decking from the wood, while the plastic brings longevity and waterproofing.
Composite decking requires barely any maintenance, apart from sweeping and occasional cleaning when dirty. Given the combination of different decking materials, especially if the wood in the blend is a hardwood species, these composite decking materials can last over 50 years. A brief overview of composite decking:
It is one of the most expensive decking materials
It comes as either deck boards or in tiles
One of the most durable materials that will never produce mould or algae
Incredibly easy to look after and maintain
It can only be the colour in which you bought it
Composite decking cannot be painted, oiled or finished easily
Can purchase composite tiles with in-built lighting for safety and navigation
Anti-Slip decking
If you live in an area of the UK that sees a lot of rain or are thinking of adding a slipping risk to the decking you construct, such as a hot tub or pool, then anti-slip decking is the best choice for you.
Anti-slip decking boards are the best way to ensure that your decking remains safe no matter the weather. Given that wooden decking needs to be treated with oils to preserve it, your decking can become incredibly slippery when water gets mixed with this oil.
Anti-slip decking boards are an excellent choice for those who will have wet decking most of the time. Even if your decking has already been installed, you can still make anti-slip additions to improve safety. You can buy anti-slip boards or strips that you can place onto your existing decking, rather than having to build your decking with anti-slip materials in mind. Of course, like the previous materials in this list, there is plenty of variation in style and aesthetics. Therefore, search around for the right material for you, rather than rushing to buy the first thing you see.
Which Boards Should I Choose?
Given the wide range of decking materials you have to choose from, it can be difficult to know what will best suit your needs. Here we have listed a few different scenarios and qualities of different materials and which decking material best suits the needs of these different situations.
Most affordable & simplest decking boards
At the top of the list, the cheapest and most easy to install decking materials are pressure-treated woods. These types of decking softwood are widely available at almost any DIY shop or wholesaler. Given how common they are, you can afford to take your time when deciding where to buy from, no matter your project budget.
However, it would be best if you always bought from reputable suppliers. This way, you can ensure that you are always buying quality products stored correctly to avoid warping or cracking. Of course, you need to bear in mind that you are signing up for more intensive maintenance requirements and a shorter lifespan if you decide to go for the cheaper softwoods when constructing your decking.
Minimal maintenance decking
For those who want to enjoy their decking with the minimum amount of maintenance required, then you should stay away from natural wood materials, whether soft or hardwoods. These decking materials require constant cleaning of organic debris and will need to be sanded and treated with oils once every three years. While hardwoods offer great durability, those who want low-maintenance alternatives should purchase either composite decking or materials made from PVC.
These materials are made from plastics, and they are resistant to rot and all of the usual outdoor hazards that would damage natural wooden deckings, such as UV light, insects, mould and moisture. Therefore, composite or PVC decking will hold its shape without warping or splitting and will not fade due to direct sunlight. Given their natural resistance to elements, composite and PVC decking materials are the best choice for those who want low-maintenance decking solutions.
Most aesthetically pleasing
The aesthetics of your decking is naturally a matter of subjective and personal opinion, and not everyone will like the same things. What may look great to one person will look horrible to someone else. However, decking owners and manufacturers generally agree that hardwood materials are by far the most aesthetically pleasing. Hardwoods have a beautiful, natural look, complete with an attractive grain and deep colours.
They can lose some of their natural charms when the warm browns and reds of hardwoods are combined with plastics in composite decking material. But as the technology of decking materials advances, the aesthetics of these plastic composites are getting better, almost looking like the real thing. Of course, choosing a natural hardwood is your best bet for achieving the complete look. Enthusiasts and manufacturers still feel that a natural hardwood deck is your best option aesthetically speaking.
Environmentally friendly options
Finding an environmentally friendly decking option is a trickier consideration to cater to than other needs and wants. Whether you construct your decking from natural woods or composite plastics, it will inevitably affect the environment. However, making conscious decisions about how you construct your decking can mitigate any damaging effects it may have. The two most environmentally damaging options are pressure-treated softwoods and plastic composites. The pressure-treating of woods involves toxic chemicals and naturally leads to deforestation when harvesting raw materials.
Plastic composites are also non-environmentally friendly, given that the combination of materials is non-recyclable. If limiting your impact on the environment is your main concern, your best option will most likely be decking materials made from 100% PVC plastics. Many manufacturers use completely recycled plastics when producing them, and you can then recycle them again once you are finished with them. Naturally, PVC materials come with their disadvantages too. Doing your research is the best way to figure out how best to mitigate your carbon emissions and dispose of any leftover materials ethically.
Easy to install decking
Another benefit to softwood decking material, aside from the lower price, is how easy it is to install. Softwoods are lightweight, easy to work with and can be joined very simply with screws
Those unfamiliar with decking construction will have an easier time building their decking if they choose to use softwoods. Alternately, many manufacturers of hardwood and composite decking now build fastening systems into the decking material itself.
This makes putting these together to create your decking far easier than traditional methods, allowing you to click all the pieces into place essentially.
Long-life decking
If longevity is your primary consideration, then staying away from softwoods is your best choice. Softwoods will only last on average around 20 years, and while hardwoods last far longer, they will naturally deteriorate over time.
If you want your decking to last for even longer, you are better off choosing either composite or PVC boards that do not contain and any natural material. These materials will not deteriorate in the elements, and plastic decking can last for up to 40 years with minimal maintenance.
---
If you require garden decking in Milton Keynes, Buckinghamshire contact us today. Our garden design experts can supply and install beautiful garden decking for you and your family to enjoy for years to come.