Everything You Need To Know About How To Put Up A Fence
Posted by:
Admin
Tags:
Posted date:
09-11-2022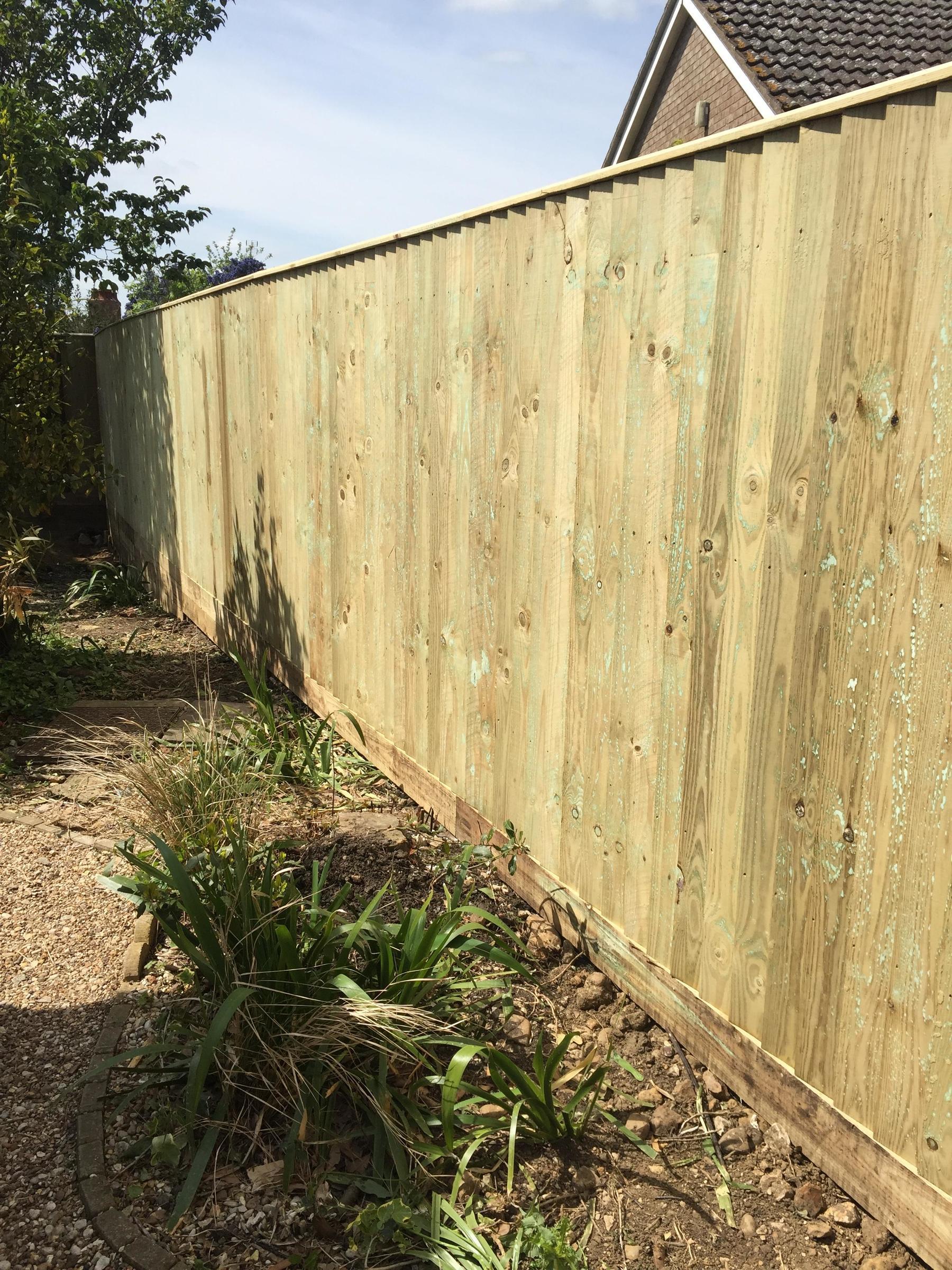 Are you looking for everything you need to know about how to put up a fence? This resource looks at how to measure your garden for a fence, neighbours boundaries and how to choose the right fencing for your garden.
Know What You Want
Before starting the process of installing a brand-new fence, there's plenty to assess and consider; firstly, you must address your reason. For those looking to keep their pets firmly inside the yard, you could get by with a wooden or chain-link fence; those looking to add privacy and block surrounding noise will need to opt for a robust material and a slightly taller fence than usual.
Whether you desire protection, keeping young children or pets safe, privacy or as a decorative element to add further aesthetic and property value to your household exterior, specific factors will suit each of their requirements. No matter the purpose, ensure it's the first decision you make as it will inform much of the following process.
Face Your Fence The Right Way
For those in the process of building a privacy fence, you want to ensure you know the way a standard wooden fence should face; i.e., the smooth side should face the neighbours or the street, and the side displaying all the posts, gate posts and rails should be facing the inside, your garden. Doing so can make your property appear more attractive and make bypassers appreciate your attention to detail.
Consider Fence Materials
White picket fences are a traditional desire for many homeowners; however, before you begin frantically purchasing whitewash paint and wooden posts, we request that you think hard about the commitment it takes to install and maintain them. Wooden fences can require occasional or biannual sealing and staining, and over time you may find your fences can warp or rot, so you must ensure you're up to the task.
With this in mind, it may be best to consider a low-maintenance, for example, vinyl fencing, which will provide you with the appearance of wood without the level of maintenance and elbow grease required. Other materials you may want to consider include bamboo, steel, aluminium and wrought iron, which provide significantly low maintenance.
How To Measure Your Garden For A Fence Project
You must take various steps during a new build or home improvement project before you begin the process of fence installation, fence construction or whatever your project may involve. Amid the planning stage, it's best to confirm your own property lines, and then you can begin carefully marking and measuring your yard. Measuring is essential, especially before you go outside or head online to buy the necessary materials; this way, you have to worry about lacking or having enough posts or panels or have purchased far too many.
You wish to work alongside a fence installation contractor; their responsibilities are to deal with all the measuring and can confirm your property borders. Even if you consider installing your fence a complete DIY project, there are always professionals you can consult in your local area to help you. However, measuring isn't as challenging a step as long as you can assure you know what you're doing. To make the procedure more straightforward, you can utilise a DIY fence kit with pre-assembled panels so that whilst measuring, and you can get a more accurate reading.
Confirm Your Property Lines
Heretofore measuring the perimeter of your property or yard to determine the actual length of your new fence, you must thoroughly address and confirm your property lines. Above all, this is a vital aspect of fence etiquette; skipping such steps in the process could be detrimental and could make for dissatisfied neighbours.
You must ensure that the area you wish to surround with a fence is legally your property; the best way to do so is to look at your home's plan or receive a property survey, and the document displays exactly how your household is mapped out. If you do not have a copy of your home or property's floor plan, you'll need to contact your land surveyor, local council or the county records office; they'll provide you with the necessary information regarding your boundary lines.
Locate Utilities & Other Obstructions
Once the perimeter of your property or house has been confirmed, you must assess your site a little further for any permanent obstructions, like trees or local utilities, that you need to consider or perhaps remove.
Contours or slopes in the terrain can impact the fence's measurements and affect the building methods. There are also fewer obvious obstructions and underground utilities that you'll want to consider, for example, gas and electric lines, pipes and cables; these need to be marked out and considered.
Marking & Measuring Your Yard
Once you've located any obstructions and confirmed the essential property lines, you can start marking and measuring your yard or garden. Measure the perimeter of your yard in feet, dividing it by the fence panel's measurement. In doing so, you can successfully decipher the number of panels you need to use; many standard pre-cut fence panels are around 6-8ft in length.
Next, we recommend you mark your corner posts by staking them in your yard or grass, where most fence panels will meet at a precise 90-degree angle. Then, mark the line posts, ensuring you begin at every corner post. The line posts must be placed at interims the same length as your fence panels, likely at every 6 to 8ft. All end panels will require cutting if you discover sections of your garden or yard indivisible by the panel length. Finally, you need to mark your end posts, whether they end at your gates, your homes or a tree. Once this is done, you can then begin the installation.
Fencing & Neighbours Boundaries
A boundary is the line diving two separate pieces of land; it can be a legal boundary that is purely presented through essential documents, or it can be a physical boundary marked out by a fence, a wall or river, etc. Ensure no property boundaries are being crossed with the development of your new fence. Building a fence or any home or property improvement on or over a property line without consent or an agreement would be a legal offence, and you may get taken to court, asked to pay a fine, or demolish your progress.
Homeowners of two specific pieces of land can create a solid boundary or party wall agreement before any building begins. Consulting with your neighbours isn't just essential for the legal side of things but also for the relationship you have with them. When you build a fence, you could disrupt their gardening or daily activities, creating shadows in their garden over their plants and preventing them from getting enough sunlight. They may feel like you are building a wall between them, especially if you frequently interact over your boundary. You want to ensure that this new build isn't going to do you any harm legally or cause any rupture.
How To Choose The Right Fencing For Your Garden
Choosing a fence that accurately suits the style and purpose you intend for your outdoor space can be challenging as many options are available on the UK market. To decide what type, materials and fence height and width are best suited for you, it's best to assess what you want out of your garden fence and the restrictions the authorities may subject to you.
Here are the main reasons people may invest in and install brand-new fences, so you can see which you resonate with. Once you've detected this, you can begin searching for the ideal fence to achieve such.

The existence of bypassers and neighbours is a part of life we are all quite accustomed to; however, our privacy is essential. We need and have the right to the freedom to relax and unwind in the comfort of our home without being ogled or bored at by outsiders. You can obtain some form of wooden panel fencing or screening for your front or back garden to conceal busy streets or other houses. For complete privacy, we would suggest opting for fence panels with little to no space between each board and adding climbing plants in between or in front of your fence can further conceal your private space.
One of the most prominent factors of implementing a fence on your property for many homeowners is security, which carries into the type of fence you wish to buy. Many have young children or pets they'd like to keep safe and secure inside their homes without fear of getting out. Where security is concerned, the taller, the better, as this will deter intruders and nosy bypassers. The most secure boundaries are at least 8ft or more with an added trellis onto a 6ft fence, as intruders cannot easily climb these.
Unfortunately, we can't all have stunning views outside our window or out on the front yard, patio or porch. For many people, blocking out busy, noisy main roads, avoiding seeing ugly buildings and preventing bypassers from glaring through their windows is essential. Taller fencing is a fantastic solution; however, if you wish to prevent the sight of a specific eyesore, we recommend stepped fencing as this mixes fitted taller sections to block out certain sections you want hidden.
Fencing is a vital consideration for those with gardens constantly subjected to frequent strong winds due to the placement of your backyard or garden. Ultimately it will allow you to maximise the exclusion of draughts, and you can add hardy climbers with wall shrubs to help conceal the high winds in late autumn into winter. Regarding the weather, the best time to build a fence is perhaps in the early spring, when less wind could disrupt you.
Many period properties in the UK are either protected as listed buildings or are located in conservation areas, meaning that your fencing requests and planning permission may be denied or challenging to obtain from planning consultants and authorities. You want to ensure you complete a thorough checkup on your local building codes and rights pertaining to your desired fence project before purchasing the materials or contacting professional installers to complete the job.
Installing A Fence
It's essential to remember that when 'DIY' installing a brand-new fence, there are some rules you must be hyperaware of and follow closely, to achieve a durable and stable result. One of the first things to remember is that, whilst fence posts are typically treated, we recommend soaking the base of your garden posts into a high-quality wood preservative product before its installation. Treated wood is paramount, and it's best to ensure you use exterior-grade screws to avoid premature rusting and rotting.
Those using pre-pressure-treated fence panels always raise them a minimum of at least 50mm above ground level, as this is another method of preventing rotting. Suppose you intend to install your garden fence by or onto any sloping terrain; ensure your fence panels stay along a perfectly horizontal line. In that case, you can begin cutting a gravel board to size, which will help fill any angled gap at its base. Often heavily sloped areas or rugged terrain can require alternative installation solutions, so we encourage you to seek the advice and additional support of specialists in the field.
It's safe and possible to erect a fence yourself; we recommend getting professional help from a fence installer as it will usually be your safest option. For any individual using a concrete mix or postcrete, a blend of additives, sand and cement that you add water to, professionals would advise that you utilise protective gloves, dust masks, and safety goggles.
It's essential to always follow the manufacturer's instructions to complete the job correctly. Also, when handling wood and any wood preserver products, it's highly significant that you wear protective gloves to prevent any skin irritation, cuts and splinters. You must dispose of any timber offcuts safely; if you're unsure how to do so, contact your local recycling centre, and they'll be able to provide advice and any help you require.



Once the area has been thoroughly scanned for any existing pipework or cables, and the fence line has been marked out using string and bamboo poles, you can begin to install your brand-new garden fence. We recommend removing debris and rocks from the surrounding areas and digging up shrubs and small plants to make space for the fence. You don't have to discard them; you can repot or replant them once your fence is installed.


Next, you need to mark out your fence post's position, digging appropriately sized fence post holes to match the length of the post. Standard poles are typically 300mm wide and around 450-600mm deep. If you're dealing with soft ground, you may require a longer post and deeper hole to have a more sturdy surface.


We would then tell you to add approximately 25mm of MOT Type 1 or gravel to the bottom of the hole you previously dug. Any harsh, wet weather or water from cleaning will drain properly and reduce any rotting your post may experience over time.


You must accurately place your first post into the hole. To position, the post, use a spirit level to ensure it is vertically level on both of the two adjacent sides. It may help temporarily secure it using two timber battens, screwing them onto the fence post.


Once you drill pilot holes, we encourage you to follow the manufacturer's instructions closely when adding postcrete into the hole with the fence post inside. Add the postcrete or concrete till it is around 25mm beneath your surface line. Always keep to fence post still and level whilst you do so to stay upright.


You should have a trowel, and here you can utilise it to create a slope in the postcrete, allowing any rainwater to run down all sides. At this point, once the postcrete is fully set, you can finally remove the timber props. Repeat the process for the next posts until all posts are set in place to ensure all are vertical.
How To Put Up Fence Panels


Suppose your fence panels have been dip treated, then you must strive to protect them from rotting, and the best way to do so is by installing pressure-treated gravel boards that typically last around seven or eight years. We recommend starting by marking the L-brackets position onto the base of every existing fence post you have garnered. Ensure you fit gravel boards to the L-bracket with 20mm screws and fix the L-bracket securely onto the post.


Next, you need to mark out your fence post's position, digging appropriately sized fence post holes to match the length of the post. Standard poles are typically 300mm wide and around 450-600mm deep. If you're dealing with soft ground, you may require a longer post and deeper hole to have a more sturdy surface.


Utilise the help of another person and together lift your fence panels into position and slide them between your positioned U-brackets, hitching them in place with more 35mm external grade screws.


You'll first need to trim your fence panels so they can successfully fit into the desired space. Begin by measuring out the necessary section and mark a guideline of where you wish to saw, ensuring you remove the framing battens from both the front and back of the section you need to cut.


Once you've re-attached the battens onto the edge you previously marked, you can utilise them to secure a firm guideline perfect for the sawing stage. Ensure you saw the panel flush alongside the repositioned batten's outer edge. There are circumstances where you may also have to reposition the battens in the centre.
How To Attach Trellis To Your Fence


For those that have included a trellis within their fencing plans, you need to begin your new build by purchasing fence posts that accurately accommodate the trellis' height.


Next, we recommend measuring and marking where you would like the trellis to be positioned on your fence post. Fix a U-Bracket onto such post; assess the local conditions to determine the number of brackets you require. If areas of your garden or backyard are incredibly windy or in quite an exposed location, you'll need a substantial or exact number of brackets.
Maintaining A Fence
Once the builders have finished their job, it is then your responsibility to maintain your fence wall, no matter the material you've chosen. The type of maintenance and the scale will depend on the type of fence material you have selected for your property's garden or backyard. Whilst water is predominantly used to clean fences and a variety of other pieces of furniture inside or outside a property; however, the nemesis of any fence, both wooden and metal, the most popular type, is water.
Too much water can cause moisture damage, and such is the biggest culprit of ageing your fence. One of the best ways to get the most out of the lifespan of your fence, all it takes is a simple cleaning; however, it's best to keep in mind that every material available has its requirements and the products that uniquely work for them.

Sealing The Wood
To maintain your fence, the first step is to seal it with a stain or paint once it has been professionally installed or done via DIY. For those that have utilised pressure-treated wood to build their fence, you must wait approximately 4-6 weeks to ensure the wood has completely dried before beginning the painting or staining process.
Sealing the wood and treating it helps to prevent any water, moisture, fungi or pests from penetrating the material and curating damage. Ensure you purchase high-quality paint that will last you a long time, ideally 2-3 years, before it requires repainting once again. On the other hand, a good quality stain can last around 3-5 years before it requires reapplying.

Inspecting For Damage
Make it a habit to thoroughly check your fence every month, walking around it and looking closely for any signs of damage, such as loose or broken pickets, holes, splinters or tilted posts. Loose nails may also be an aspect to look out for, depending on how your fence has been built and by who.
One of the most significant benefits of brand-new wood fences is that damaged or broken pickets are easy to replace. You can typically hammer a loose nail back in place with the standard tools you'd find in your toolbox, like pegs, screwdrivers and hammers.

Cleaning The Fence
It can be vital to ensure your fence is entirely clean; plenty of the time, a bucket of soapy water and a soft washcloth should help clean off the pollen and dust from your household or property fence. Tougher stains may need a little more maintenance, for example, a more robust garden hose or a gentle one that you can direct at specific areas for a little longer so that you don't chip away at the polish or paint.
Always be wary of algae or mould that will present itself in black and green stains, as straightforward cleaning won't rid them. Killing the algae as early as possible is essential; otherwise, it will come back immediately. One of the fairly easy remedies you can DIY and use to kill algae or mould is a cup of chlorine bleach mixed with water, or for a more simplistic method that you can find in your kitchen, we recommend using water and white vinegar.

Maintaining An Ornamental Fence
Basic Cleaning
When cleaning your ornamental fence, using a garden hose to spray from bottom to top and back down effectively is more suitable. In doing so this way, you can avoid dripping and achieve maximum cleaning.
Suppose you discover dirty spots in a few areas after power washing your fence, then take a very gentle cloth with some soapy water; this way, you can remove it with care without the need for intense scrubbing that could damage the layers of paint. You can use the help of a gentle power wash if you notice any extremely stuck-on grime or dirt, bearing in mind you keep the equipment on the lowest settings as this will ensure your fence's protective coating isn't damaged.

Spot & Repair Damage
Every month, it would be wise to walk the entire length of your fence, looking closely for dents, scratches, scuffs and various other penetrations that could damage the layers of paint coating. You'll want to keep a close eye out for peeling, chipping or flaking in your paint, as this could lead to the rusting of your fence; catching the paint before it has the chance to rust will mean that repairs are far more straightforward.
Firstly, purchase a wire brush and skillfully remove the paint layer and then, using the same colour, paint over the cleaned area with two coats each of primer and rust-proof paint. However, if the area begins to rust, it's paramount to utilise a wire brush and get rid of all the existing paint down to the clean metal. We recommend purchasing products similar to 'Rust-Mort' or another high-quality product to neutralise the rust, then apply the primer and finish with a layer of your chosen colour paint.

Maintaining A Vinyl Fence
Cleaning A Vinyl Fence
It is relatively straightforward to clean your vinyl fence, and it will only take a touch more labour than a typical garden hose to wash down. We encourage you to start at the bottom and use a spray bottle up to the top and then back down to the bottom. If you still notice spots, we recommend utilising a sponge and soapy water to get rid of them.
On the other hand, living stains on your vinyl fence will require more cleaning; living stains are typically algae of green, black or yellow shade. To kill the algae, you will need a diluted solution of water and chlorine bleach, or if you prefer a more natural technique, opt for water, white vinegar and some elbow grease.
For those with vast enclosures, it will take hours to complete a hand-washing of your fence, so we encourage you to utilise a power washer combined with a highly concentrated cleaning fluid that is catered toward power washers.

---
Are you looking for garden fence installation near you? If you require new gates in Milton Keynes, Buckinghamshire contact us today. Our garden design experts can supply and install beautiful fencing for you and your family to enjoy for years to come.